ATX Power Distribution Box
A power distribution box for the ATX power supply.
As older PCs are retired and disassembled, it is likely that the power supplies are re-usable. This project demonstrates a box built to provide low voltage DC power distribution points using an ATX power supply unit.
The project is built into a standard 'Jiffy' project box. It features:
Power on/off switch
Selectable 12v/5v output to high-current screw terminals
Voltage and current display for the high current outputs (5v and 12v)
Screw terminal connections for +/-12v, 3.3v and +/-5v
Large screw terminal connectors for the selectable ouput (5v or 12v)
One USB port for 5v
One USB port (switched) for 5v standby.

Construction
The multi-pin main-board connector is cut off and the wires led into the project box through a slot cut into the edge of the top. Some of the wires go direct to the screw terminals on the top of the box, whilst others go to an array of screw terminals mounted underneath the lid (using the same mounts). These terminals provide the connection points for the miscellaneous items such as the voltage and current display and the USB ports.




Construction was mainly dictated by what was available in the bits bin, except for the voltage/current display which was acquired on-line. A push/push switch was mounted next to the display, with a power indicator LED with integral resistor and mounting ferrule, fed from the 5v supply. The switch controls the PS through the power control line, so no mains voltage is involved. The USB ports are from the backplane USB assembly from the same PC chassis that provided the power supply. The 5v/12v selector switches are two-pole two-position slide switches wired as single pole, while the standby LED (with resistor) is simply pushed into a small hole in the lid. A label was 3D-printed for the high current connector, as the arrangement is not obvious. Standard printed labels were used elsewhere.
A note on utility power leads.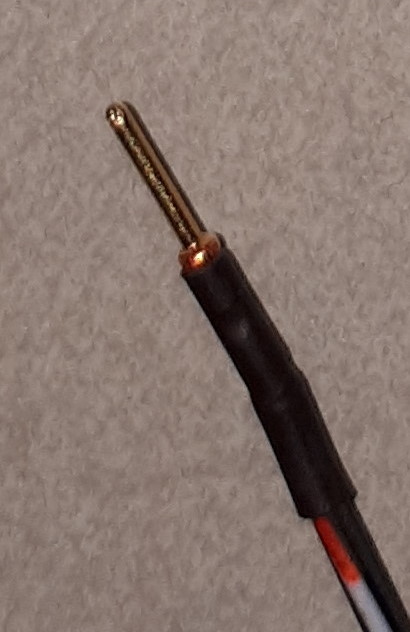 The male pins from RS232-format connectors (eg, PC serial or parallel port cables/sockets) make very good ferrules for flying leads. The wires solder easily inside the pins, and heat shrink provides support.